Bodega Marine Laboratory Shoreline Observations
The Bodega Ocean Observing Node continuously monitors meteorological and oceanographic conditions on the Bodega Marine Reserve and adjacent coastal waters. This automated data acquisition system was first deployed in 1988 and has been expanded several times to measure additional parameters and apply new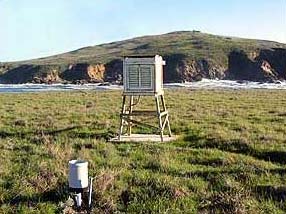 technologies. The resulting data sets describe the climatological context for all field studies at the site and are a central element of many research and resource management programs. Meteorological sensors measure wind, air temperature, humidity, barometric pressure, rainfall, solar and photosynthetically-active radiation. Oceanographic sensors measure seawater temperature and salinity.
Measurements
Fort Point Observations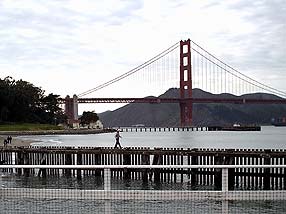 Bodega Marine Laboratory (BML) operates a seawater monitoring station at Fort Point, on the southern side of the Golden Gate at the entrance to San Francisco Bay. Collected data include temperature, conductivity, pressure, salinity and density measurements from a CTD. Additional sensors collected chlorophyll fluorescence and transmittance.
Measurements